Learn from the Samurai and become a troubleshooting master!
In this action-packed, riveting, 30-minute, recording of a live webinar, Samurai Appliance Repair Man explains:
Ohm's Law: what it is and how Master Samurai Techs deploy it with deadly accuracy to nuke appliance bootay
Understanding power and work in electric circuits
Applying Ohm's Law to real-world troubleshooting situations
Schematic analysis of real schematics using Ohm's Law and series circuit analysis
Understanding voltage vs. voltage drop
Understanding series loads
[s2If current_user_cannot(access_s2member_ccap_ohms_law_screencast)]
Here are a few tantalizing screenshots of the presentation…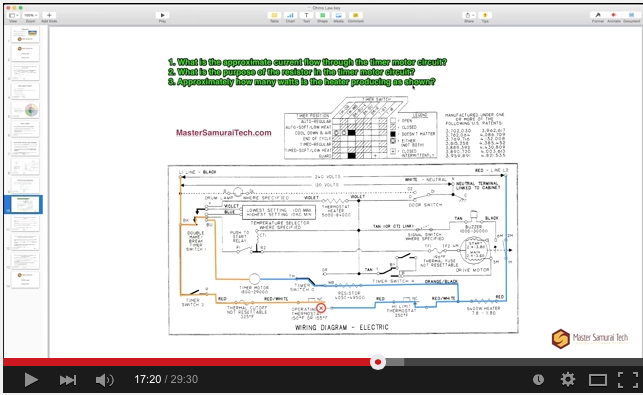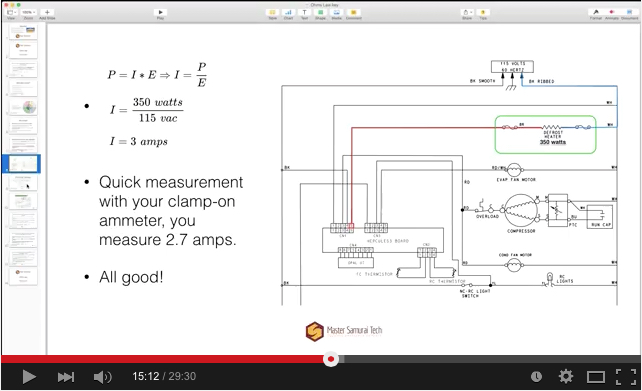 Pricing:
Samurai Tech Academy Fundamentals Students: FREE!
Professional Appliantologist member at Appliantology.org: FREE! (with coupon code)
Appliance Tech Community-at-large: $10
[/s2If]
The Samurai Tech Academy announces upcoming webinars as well as course updates, new course offerings, and special discounts in the STA newsletter. If you'd like to subscribe, you can do so here.

[s2If is_singular()]
[_s2If current_user_can(access_s2member_ccap_ohms_law_screencast) OR current_user_can(access_s2member_ccap_fundamentals)]
Just before I did this webinar, I got a cool equation making program called, oddly enough, Equation Maker. Well, in my excitement to make cool looking equations, like the ones shown below, I formed the WRONG equation for Power starting at about 20:53 in the video. It was purely a transcription error– the actual calculation was based on the correct equation.
The INCORRECT equation for Power I used in the video is:

But the CORRECT equation that the actual calculation was based on is:

[_else]
[__s2If is_user_logged_in()]
Select your Billing Method below to watch the screencast for only $10! The screencast will appear here after you complete the checkout process.
[s2Member-Pro-Stripe-Form level="*" ccaps="ohms_law_screencast" desc="Troubleshooting Appliances using Ohm's Law and Schematic Analysis" cc="USD" custom="mastersamuraitech.com" ra="10.00″ rp="1″ rt="L" rr="BN" coupon="" accept_coupons="1″ default_country_code="US" captcha="0″ success="/a-master-samurai-tech-presentation-troubleshooting-appliances-using-ohms-law-and-schematic-analysis/" /]
[__else]
You must be logged in to access this content! If you already have an account, click here to login. Otherwise, use the form below to create a free account. Then come back here to the blog to continue!
[s2Member-Pro-Stripe-Form register="1″ level="0″ ccaps="" desc="Signup now, it's Free!" custom="mastersamuraitech.com" tp="0″ tt="D" captcha="0″ /]
[/__s2If]
[/_s2If]
[else]
Click here to begin your journey of Total Appliance Enlightenment!

[/s2If]