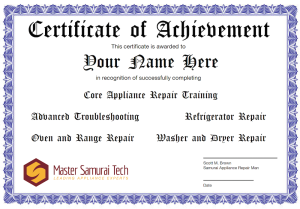 What does it mean to receive your appliance repair certification from Master Samurai Tech?
Many customers like to see that their repairman is "certified," but they never ask where the appliance repair certification comes from. Since there is no standard certification in the US for appliance repair professionals, it's up to you to choose where to get yours.
We have an excellent reputation for training the best technicians in the business.
We have provided training classes at national and regional training events for the United Appliance Servicers Association.
Organizations like BrandSource, Nationwide Marketing Group, and Mr. Appliance® rely on our school to provide online technical training for their franchises and tech communities.
Many multi-tech businesses use our courses to train their crews, and hundreds of individual owner-operators have taken our courses to begin or boost their business.
Earning your appliance repair certification at the MST Academy demonstrates a commitment to your profession and an unparalleled depth of knowledge.
---
What else do I get with my certification?
First, students who earn their certification in the Core Appliance Repair Training course also receive a free one-year membership to Appliantology, the biggest and best online resource for working techs. That's a $197 value FREE, and that's just for starters.
Certified technicians and businesses also earn the right to show off their expertise to customers, employers (or employees), manufacturers, dealers, and more. Contact us anytime to request your physical certificate, uniform patches, and digital badge to put on your website.
---
What about other appliance repair certifications?
Most appliance repair certifications are based on passing a one-time, proprietary exam, and don't necessarily demonstrate expertise to other people. Master Samurai Tech is more like a certificate program, a growing trend in higher education, which shows that you completed a dedicated series of coursework, whose curricula is viewable to the public, and that you showed an excellent grasp of the material in every quiz and exam. For that reason, a certification from Master Samurai Tech carries far more weight than other certifications.
NASTeC and PSA Certifications
If you would like to supplement your Master Samurai Tech certification with some of the single-exam variety, your training in our school will let you make short work of the NASTeC and PSA certifications. But we wouldn't blame you if you wanted to save your money and skip both of these.
EPA Certification
Many people ask us about the EPA Certification, which is required for techs who will be working with refrigerants. EPA certification simply shows that you've passed a test regarding refrigerant handling and understand the regulations and certain safety procedures. You can search online for a place that is authorized to offer the EPA "Section 608" test and certification, such as this one.
---
What's the Criteria for Certification?
Certification is issued for the Core Appliance Repair, Advanced Refrigerator Repair, Advanced Oven and Range Repair, Advanced Washer and Dryer Repair, and Advanced Troubleshooting courses, but only when students have:
Scored an 80% or better on each unit quiz
90% or higher on each module exam (where applicable)
90% or higher on both the midterm and final exams (where applicable)
Note that the requirements are for each quiz or exam, not based on an average.