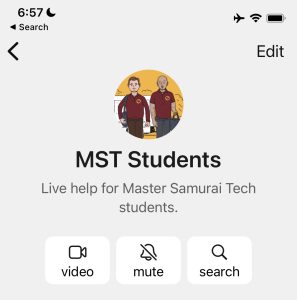 Master Samurai Tech students have the best of both worlds. They can work at their own pace and convenience on the online courses, but they also have access to Team Samurai whenever they need personalized help.
The Ask the Teacher Forums at MST are the classic way to get help from Team Samurai. Students can browse topics or ask their own questions and get replies directly from Team Samurai.
Now we've kicked our support up to 11. Students can also get help on their coursework on their mobile device with the Master Samurai Tech student support channel on Signal. For support with current real-life service calls– service manuals, tech help, etc.– please use Appliantology.org
The MST Students channel on Signal allows for multimedia communications. Students can ask questions by voice or video in addition to text, and they can post photos, too. Similarly, Team Samurai can reply with voice messages, video explanations, illustrative photos, or plain text– whichever will best convey the message.
What is Signal? Signal is a private, secure messaging app for your phone that lets you communicate with others by text, voice messages, video, and photos. You can read more about Signal here: https://signal.org/. And you can download the Signal app for your phone or desktop here: https://signal.org/download/
Which is the best way to get help? That's up to you! Try each one and see what you prefer. You may find that Signal is good for some types of questions, and the Ask the Teacher Forum for others. IMPORTANT: only post your question on one or the other – please don't post the same question to both platforms.
Here are a few of examples of the types of questions this channel is for:
I'm still not sure why it's important to know if voltage is regular voltage or voltage drop.
On the Adv. Oven & Range course, Case Study 7, I can't figure out how the LOI gets voltage.
In Advanced Refrigerator Repair, Mod. 1, unit 10, I am confused by questions 5, and 7 dealing with Compressor Terminals….
But questions like this are for the Appliantology forums, not the Signal channel: I'm working on an Acme oven that won't heat…
How can you get on the MST Student channel on Signal? Easy!
Download the Signal app for your phone. You'll get it from either the Google Play store or the Apple app store.
Create a free account on Signal.
Find the MST Students channel – either click this link or scan the QR code below – then request to join.
Fill out this form so we can verify that you are an MST student when you request to join the channel.